Stacie Nevelus
Licensed Massage Therapist
Certified Neuromuscular Therapist
Certified Massage Cupping Educator
Let me tell you a little bit about me and my background. Currently I live in Sarasota, Florida where I have been practicing massage therapy since February 1999. In December of 1998, I graduated from Sarasota School of Massage Therapy in Sarasota, Florida where I learned many different types of massage therapy from Swedish massage to basic Neuromuscular Massage. Shortly after being licensed, I pursued a certification in Neuromuscular Therapy (CNMT). In my practice, I've become known as a specialist in acute and chronic injuries as well as working with athletes.
In October of 1999, I joined the Florida State Massage Therapy Association (FSMTA) Sarasota/ Manatee Chapter, where I am still a member. At which time, I became active with the Sports Massage Team. The team would massage at local sporting events such as 5K's, triathlons and cycling events. In 2000, I received recognition as the FSMTA Sports Massage Therapist of the year for our local chapter. In August of 2001, I was asked to become Sports Massage Team Coordinator for the local FSMTA chapter. This entailed providing sports massage at area sporting events. I held this voluntary position through the summer of 2004 when I decided to focus on my growing practice. In April of 2005, I learned a unique therapy used for thousands of years in oriental medicine, know as cupping. In this time, I became a Certified Massage Cupping Practioner (CMCP) which is the an ancient modality modernized. Taking this ancient healing art and integrating it into neuromuscular and myofascial therapies has been an amazing addition to the massage treatment yielding amazing results. In my many years experience, my focus has been deep tissue massage and acute & chronic injury rehabilitation. In October 2012, I was featured in Massage Magazine which is a national publication in the massage industry. In January 2013, I had an article published in Massage Today called "Vacutherapies and the Professional Athlete". Shortly thereafter I had another article published called "Cup Runneth Over" in Massage Message an FSMTA publication. This article was showcasing VacuTherapies and I was accepted as a presenter for the FSMTA State Convention in June 2013, in Orlando, FL. In this time, I have worked with various competing and professional athletes ranging from tennis professionals, competing Triathletes, nationally ranked & Olympic runners, MLB players as well as NFL players and LPGA athletes, to name a few. I was also the referring massage therapist for the Cincinnati Reds MLB players during their Spring Training while they were in Sarasota, FL. For many years I was the acting Massage Therapy guest consultant for David O'Meara. He was an international runner completing the 1 mile run in under 5 minutes as a Masters athlete. I am also certified as a Massage Cupping/MediCupping Educator (CMCE) through Advanced Massage Cupping (ACE). This allows me to share the wonders of Massage Cupping/MediCupping with other Massage Therapist and health care professionals throughout the country while offering them Continuing Education. I have several workshops scheduled in the upcoming months. Please check that section of my website and see if there is a workshop that is of interest to you or someone you may know.
Choosing a massage therapist is a very important decision. My clients have told me that they call me exclusively for a number of reasons. Exceptionally therapeutic bodywork is paramount. In addition, I am able to develop a customized program that deals with your health and lifestyle concerns. Importantly, I try to be as flexible as possible and schedule your session at a time that is best for your busy life.
You already know that massage therapy is as vital to a healthy mind and body as is exercise and diet. All too often, people who have demanding lives turn to temporary solutions that do not necessarily promote healing or wellness. I'd like to introduce a better choice. Discover the benefits of body work. It's an opportunity to exhale deeply, to relax completely and to nurture a healthier lifestyle.
Best of the Suncoast 2009: Best Cupping Massage
Stacie Nevelus October 20th, 2009 by CL Staff in Best of the Suncoast 2009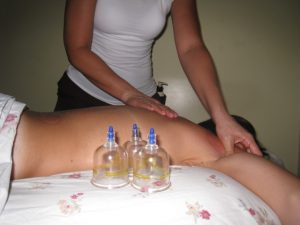 Haven't heard of "cupping" yet? We learned about this alternative therapy back in 2004, when one Miss Gwyneth Paltrow showed up for a movie premier with large round bruises all over her exposed back. The culprit? Cupping, an ancient form of pressure therapy in which round glass bulbs are placed on the patient's skin in order to draw out toxins and increase blood flow through suction. Traditionally, the therapist would place an exposed flame in the bulb to create a vacuum but modern practitioners now use a simple gun-like pump to achieve more precise results. Locally, Stacie Nevelus is the go-to source for your celeb-inspired massage moment. Stacie's cred, however, is much more serious than some fad treatment. Certified in neuromuscular
therapy with a focus on sports massage and acute and chronic injury rehabilitation, Stacie has been practicing over 10 years now, integrating cupping into her arsenal in 2005. When we met after hearing continued rave reviews, Stacie shared story after story of her clients' recoveries from problems as diverse as shin splints, TMJ, hip pain and sinus infections. While her services aren't cheap ($77 for the first hour), go ahead and tell Stacie where it hurts – when it comes to pain relief, her cup runeth over. Sarasota, 726-3440 or stacienevelus.com